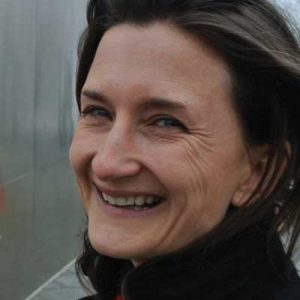 Beadie Finzi
Director, Doc Society
At its core, Doc Society is an organization that's committed to supporting independent documentary filmmakers and the extraordinary films they create. We want to help them realize their vision, to connect them to the audiences and partners they need to flourish, and to help their work have the biggest impact possible.
How do we do this? With direct funding for documentary films and mentorship of individual filmmakers but also through a series of programmatic interventions designed to help build capacity and grow resources for the whole field. From the Doc Impact Award to Doc Academy, Safe + Secure to Good Pitch, some of these projects are wholly experimental, some more mature. The trick is to be in constant listening mode, a state of permanent R&D, asking ourselves, "Is what we're doing most useful?" and, "How can we respond to the changing needs of independent filmmakers?"
Bringing together the documentary community with civil society and forging new partnerships to support funding, distribution, and impact campaigns is an essential part of this strategy. For this reason, organizing convenings is a huge focus for us. In particular, our convenings primarily focus on four groups: independent filmmakers who want to understand how their films can have impact beyond a traditional distribution cycle; the burgeoning community of global impact producers who are forging a new professional class; foundations and philanthropists who are doc-curious; and leading NGOs and organizers who recognize how powerful media can be and wonder how to partner. Sometimes we bring them all together and sometimes we convene them as individual communities, and these gatherings range from informal to theatrical.
As one of the Doc Society Foundation Directors, my prime area of focus is Good Pitch. Since 2009, this annual program has been bringing together documentary filmmakers with foundations, NGOs, campaigners, philanthropists, policymakers, brands, and media around leading social and environmental issues. Our aim is to forge coalitions and campaigns that are good for the films and good for those partners.
We decided to redirect our resources in the US toward convening at the city and state level.
The Doc Impact Award
The Doc Impact Award is first prize to celebrate the power of documentary film as a driver of change, and the first to compel filmmakers to capture and articulate evidence of impact. Impact Award documentaries have created significant and measurable social or environmental impact. Past winners include The Act of Killing, Armadillo, Blackfish, Burma VJ, Gasland, Granito, Chasing Ice, Citizenfour, Food Chains, and Virunga.
"Doc Impact Award." Doc Society, 2018,
Each annual cycle includes Impact Labs for the participating filmmakers to devise an impact strategy for their feature docs. Then comes six months of deep outreach to potential allies, before the whole cycle culminates in a live event, featuring several hundred changemakers from across civil society. The event is a day of connections and radical collaboration, which forges new alliances and raises financing for documentary productions and their impact campaigns — over $30 million at the last count.
This model is now well-proven to work across continents and cultures. In addition to annual hub programs in Europe and in the United States, we have now successfully shared the model with local media organizations in South Africa, Canada, Colombia, India, Indonesia, Taiwan, Argentina, Australia and Kenya, with new programs in development in Brazil, and in the MENA and Pasifika regions.
While we have seen great success with national and continental editions of Good Pitch, the dramatic global political tremors of the last three years demanded soul searching amongst media makers and support organizations like ourselves. Following the 2016 US Presidential election, we decided to redirect our resources in the US toward convening at the city and state level, helping lift up stories missing from the news cycle — and so Good Pitch Local was born.
Having a physical gathering alongside a virtual networking group has been invaluable.
Good Pitch Local
Good Pitch convenes filmmakers with changemakers around urgent issues to catalyze coalitions and create campaigns for social good. Good Pitch Local events support the creation of innovative local media that can galvanize communities. It differs from Good Pitch in that it presents opportunities for organizers to connect and creatively collaborate with media makers in their own communities. Good Pitch Local events have taken place in Dallas, TX, Durham, NC, Miami, FL, and Detroit, MI.
"Good Pitch Local." Good Pitch, Doc Society, 2018.
Good Pitch Local is a day-long networking event showcasing short-form nonfiction media projects that are deeply relevant to that community. This is where artists and storytellers connect with local allies — from lawyers, to musicians, local journalists, or community foundations — to find the resources they need to get their work made and seen. A more rough and ready convening, Good Pitch Local costs less and can happen faster, meaning we can do more, which is great. It's also a smart way to share the resources we have developed working with the global community over the years including The Impact Field Guide & Toolkit and essential toolkits for film teams like Safe + Secure.
If Good Pitch is an example of a structured convening by Doc Society, we also have more informal strategies for getting people together. For one thing, we're big believers in a damn good party! Filmmaking is typically lonely and isolating, and involves working solo or in small units over many years. There can be huge periods of doubt about the story, and enormous stress or anxiety about the process. Creating formal and informal spaces where filmmakers and the organizations that support them can come together, in solidarity, is absolutely vital.
Good Pitch
Doc Society is known for Good Pitch, which brings together filmmakers with foundations, NGOs, campaigners, philanthropists, policymakers, brands and media around leading social and environmental issues. It forges coalitions that are good for the partners, films and society.
134 film projects from 60 countries have been presented to more than 3,000 organizations through Good Pitch.
Films that have stemmed from Good Pitch include: Last Men in Aleppo, Whose Streets?, Chasing Coral, Dark Money, The Hunting Ground, Strong Island, Virunga, The Yes Men Are Revolting, The Square, The Invisible War, How to Survive a Plague, Conviction, Her Song, The Pushouts, iHUMAN, The Negotiators, Cosas Que No Hacemos.
"Good Pitch." Doc Society, 2018.
But it's not just the producers and directors who need love. In the last couple of years we have started convening the Global Impact Producers Assembly. Given the term "impact producer" was only coined six years ago, it was pretty darn impressive to see 116 colleagues from over 30 countries at the 2018 edition. This feat was made possible with generous travel stipends provided by the Ford Foundation, Participant Media, and Bertha Foundation. As this new professional class emerges and defines its role, having a physical gathering alongside a virtual networking group has been invaluable to share practice and inspiration, and build connections across continents.
Let's be clear — we are not alone. Doc Society exists in a rich soup of colleagues and peers delivering really good work. The US in particular has such a rich ecology; Firelight Media and Chicken & Egg provide the community with deep professional development. We have sophisticated and strategic funders like Fledgling and Perspective Fund. We are spoiled for choice with world class festivals from Sundance to True/False.
When people ask me does convening work, my answer is "hell yes!" The documentary community is proudly tenacious and highly entrepreneurial. We have had to be. But we live in complex and challenging times, and so if anything, we need to do more of it — creating purposeful gatherings that bring us together, to offer solidarity and a chance to learn. We must keep asking the question — is what we are doing most useful?