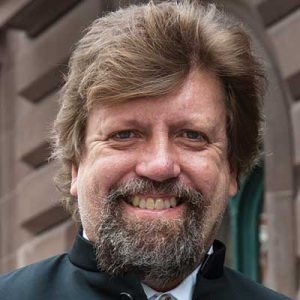 Oskar Eustis
Artistic Director of The Public Theater and a Tony Award®-winning producer
Notable works: Fun Home, Hamilton, Sweat
Angels in America
Angels in America: Millennium Approaches, a play by Tony Kushner, explores the AIDS epidemic as a metaphor for spiritual decay in the 1980s. The play won the 1993 Pulitzer Prize for Drama before its first Broadway performance had even opened.
Hamilton
Hamilton: An American Musical is a sung-and rapped-through musical about the life of American Founding Father Alexander Hamilton. Created by Lin-Manuel Miranda, the play incorporates hip-hop, R&B, pop, soul, traditional-style show tunes, and conscious casting of non-white actors as the Founding Fathers and other historical figures.
In your 2018 TED Talk you called theater the "essential art form of democracy." Could you please elaborate on this? What role do you see theater playing in society at large?
There are a couple of aspects to this. One is that the art form itself is a training in democratic citizenship. By that, I mean that it assumes, as a form, that the truth is dialectical: truth is not monolithic or singular but can only emerge in the conflict between different points of view. I think that's true about the world, but I think it's also terribly essential for a democracy: people have to believe that the debate between different points of view will produce a better result than a monolithic imposition of one person's will or one party's will.
The other thing that I think is key to theater is that it requires an imaginative leap of empathy. In order to enjoy a piece of theater, you have to put yourself in the shoes of the characters on stage — and by the way, you put yourself into more than one pair of shoes. To understand that people can see things differently and come from different points of view — again, I think that's crucial to democratic citizenship.
Finally, there's the experience of being in an audience. When people laugh together, it's not simply their personal reactions — it's a collective response. We don't have many places in culture where we can feel that sense of sharing a communal experience with people who are not pre-selected to share our ideological beliefs.
While working at the Eureka Theater Company you commissioned a groundbreaking work of American theater: Tony Kushner's Angels in America. What was it you saw in Tony Kushner that made you want to fight in his corner?
In 1985, when Tony was still a student at NYU, I saw a staged reading of one of his very first plays, A Bright Room Called Day. By the intermission, I knew that my life was about to change. Part of it was reaching that moment in your professional life where you think, this is it, this is the reason I do this: to find a writer who is this bright, this young, at the beginning of their career.
Tony was a great writer, and that was obvious just from the writing, but he also cared about the same things that I did. Up until that point I had been despairing over whether I'd ever be able to have a life in the American theater where I would be surrounded by people who embraced the kinds of social, political, and historical issues that I cared so passionately about. I was a red diaper baby and was raised by Communist parents — and most red diaper babies didn't go into the theater, so I had felt very lonely.
In order to enjoy a piece of theater, you have to put yourself in the shoes of the characters on stage.
Hamilton 2016 Tony Awards®
Hamilton won 11 awards at the 2016 Tony Awards®. It won in nearly every category in which it was nominated. However two losses kept it from tying (or surpassing) The Producers for most Tony® wins ever.
The play also won the 2016 Pulitzer Prize in Drama.
Hamilton Off-Broadway
Hamilton originally opened at The Public Theater (Off-Broadway) on January 17th 2015 with a sold-out run and moved to the Richard Rodgers Theatre (on Broadway) in August.
Hamilton on Broadway
As of June 2016 (a year after opening) Hamilton was consistently selling out all 1,321 seats at the Richard Rodgers Theatre and grossing and estimated $1.9M a week in ticket sales.
We applied for a commissioning grant for Angels in America and got it, and the play ended up going beyond our wildest dreams. It was the first high-level American artistic artifact in which gay people were not only openly gay, complexly gay, totally secure in their gay identity, but were also struggling with what it meant in the world. These characters were staking their claim to speak for America itself. They were saying that their experiences were in no way marginalized or reduced because they were gay: Prior Walter is an American everyman, and being gay is central to that identity but in no way limits the size of his identity. I think that is something that the theater does particularly well — to take the experience of people who have previously been marginalized and say no, this is actually central to the story of America.
The theater is particularly good at putting the spotlight on people, putting them center stage and saying these people speak not only for themselves but for all of us, and Angels really did that in a way. It was part of a larger movement that changed what meant to be gay in America, in a way that was unimaginable 25 years ago. At the time, none of us could have believed that gay marriage would be possible within 25 years, let alone commonplace. Though many factors contributed to this, I like to think the play had something to do with that change, in some small way.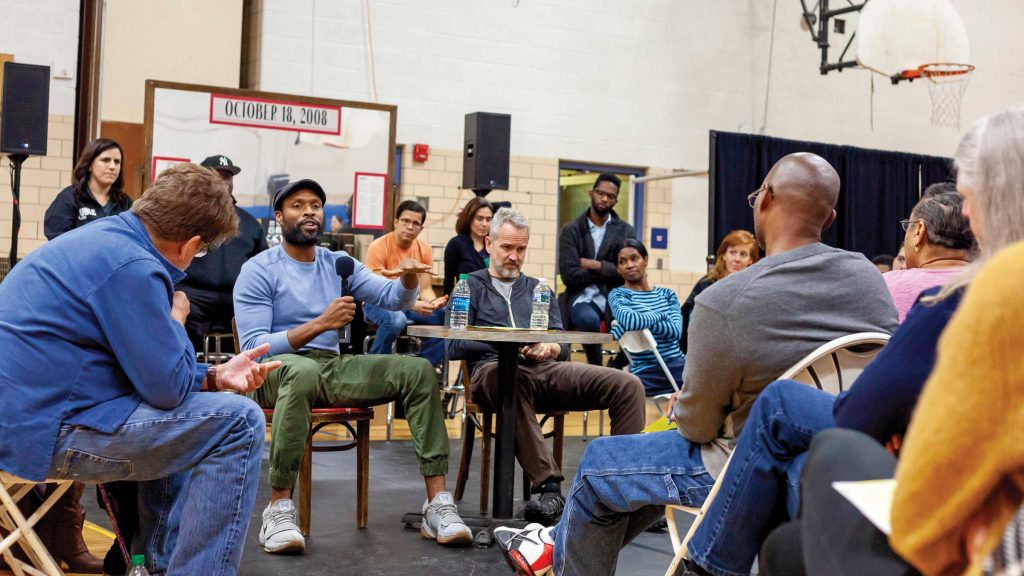 You also helped to create another landmark of American theater: Lin-Manuel Miranda's Hamilton. Could you tell us how the show ended up premiering at The Public Theater?
Lin-Manuel Miranda is an absolutely astonishing writer and composer: his work, tones, and conceptual insight are remarkable. This is evident in his use of hip-hop as an extraordinary vehicle for conveying expository information. There is more information in the first song of Hamilton than exists in most musicals as a whole! You can take in an enormous amount of information in verse form that you couldn't if it were prose. Shakespeare figured that out, and Lin did too.
I think the deeper thing that Hamilton was responding to was the realization that there were millions and millions of people who were desperate to feel patriotic again: American citizens who in many ways were deeply ashamed of what our country had been doing, really for its entire existence — because this beautiful bastard of a democracy was built on a legacy of slavery and genocide. Many of us were desperate to feel there is an idea of an America which is fundamentally democratic, fundamentally inclusive, fundamentally meritocratic. Not only by telling the story of Hamilton, but by casting it the way he did, Lin managed to unleash that patriotic lust within parts of the audience, and it's been wonderful to watch that happen.
There is not a single play or program I've done that has had a real impact that didn't feel impossible when I started thinking about it.
Shakespeare in the Park
Created by the late Joseph Papp in 1962, The Public Theater's series offers free, large-scale productions of works by William Shakespeare. Past casts have included Meryl Streep, Kevin Kline, Al Pacino, Blythe Danner, Philip Seymour Hoffman, George C. Scott and Denzel Washington.
Sweat
Lynn Nottage's Sweat is set in Reading, Pennsylvania, and examines the effect of the economic downturn on its inhabitants. The play chronicles dramatic events in the lives of a group of blue-collar workers, many of whom have worked in the local factory for generations. When Cynthia – an African-American woman – is promoted, a once-close group of friends is torn apart by mistrust and jealousy.
Sweat awards
Sweat was nominated for three awards at 2017 Tony Awards® and was awarded the 2017 Pulitzer Prize in Drama, making Lynn Nottage the first woman to win the prestigious award twice.
Could you please tell us about some of the programs you run at The Public Theater, and how they typify the theater's philosophy?
Shakespeare in the Park is our gold standard. We've been doing it for more than 60 years at the Delacorte Theater in Central Park, and I think it's been so powerful and enduring because it's a completely simple idea. We put on fantastic productions by the world's greatest writer, you get to see them without paying — and the idea is contained in the title!
We almost never have an empty seat at Shakespeare in the Park — we have 2,000 people come out all summer to see these shows. The quality of the productions is very high and people are passionate about them, so you can feel the sense of connectivity in the audience.
The Mobile Unit, which takes Shakespeare to community centers, prisons, and homeless shelters is the only program we have where the demographics of the audience precisely matches the demographics of New York City. There's no difference between the populations that see our mobile Shakespeare and those that make up the city, and that's thrilling for us. There was a lesson from this that we incorporated into our recent mobile, national tour of Lynn Nottage's Sweat: if you want to make sure you reach people that you wouldn't normally, go to them. Don't make them come to you; go to where they are.
The Public Theater Mobile Unit
The Public Theater's Mobile Unit is a reinvention of Joseph Papp's "Mobile Theater," which began in 1957. Papp's original touring company evolved into the New York Shakespeare Festival, and ultimately became The Public Theater.
Today, 80% of the New York City population lives outside Manhattan — in Brooklyn, Queens, Staten Island, and the Bronx — yet a 2011 study shared that only 25% of the city's cultural institutions are located outside Manhattan. The current Mobile Unit is one remedy to the lack of professionally-produced theater available to culturally under-resourced neighborhoods of NYC.
What advice or key learnings would you pass on to people who are just starting out in the world of theater — particularly those who would like to create social impact through their work?
First, there is not a single play or program I've done that has had real impact that didn't feel impossible when I started thinking about it. It is almost the definition of something that is going to break new ground. Perhaps it's because it's never been done before that it seems like it's not possible, and you have to actually school yourself to suppress your own doubts. You must continue to ask questions, to try to solve the problem you think is most worth solving, even if you think it can't possibly work. Of course, sometimes it doesn't work, sometimes you can't do it. But what I've found is if you don't give up, it's astonishing how much of what seems impossible becomes possible. It just means you have to have your values pretty clear, and you have to be willing to pursue them pretty ferociously.
The second thing is that 95% of the success of my work has been because I have identified people of great ability, talent and vision, and then did everything I could to empower them. In this way you support the artists and visionaries that need that support, but also from the very beginning of a project there is not one person trying to push it through, there at least two: me and the person I am supporting, me and Tony, me and Lin-Manuel.
The geometric progression of an idea — whether that's a play, a new program, or a new way of reaching audiences — never happens because you're just that smart and you have figured out how to do it. It happens because you are gathering around you the people with the abilities, the talents, the drive, and the ideals to help make it real.