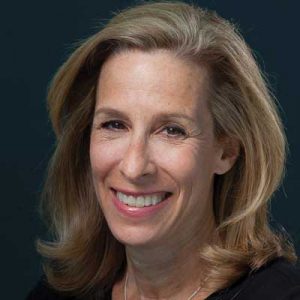 Carole Tomko
Former General Manager and Creative Director of Vulcan Productions
Notable works: We The Economy, We The Voters, Racing Extinction
Storytelling can drive public awareness of big issues in a way that conventional philanthropy can't match.
We The Voters audience reach
The films continue to provide fact-based, nonpartisan information to help lead informed discussions on issues brought up during Trump's presidency.
The emotional bond generated from compelling content, partnered with information that empowers people to do something about it, is the key to real, positive change. Our mission at Vulcan Productions is centered around five pillars — technology, data, policy change, philanthropy, and storytelling — and how these tools help us to create content that builds awareness and drives engagement. The work we do ranges from production to campaigns and outreach, but all of it aims to generate impact through information-rich storytelling.
Two of our most successful digital short-form projects are We The Economy and its follow-up, We The Voters. Both aimed to demystify big, thorny issues a lot of people remain uninformed about throughout their lives. We The Economy arose from shocking insights gathered on how the average American struggles to understand the fundamentals of the country's economy. We commissioned 23 digital short films with a totally uncommercial agenda, allowing 20 directors to produce content that explained an economic topic they felt needed unraveling — such as how the global trade system works, or why healthcare is so expensive. The creative freedom we gave them meant that the films took all shapes and forms: documentary, narrative, and even one that is told through dance! We partnered with more than 70 distributors online and with Landmark Theatres across the country — all of which resulted in 18 million views across various platforms.
We wanted to reach younger voters and those harder-to-reach, traditionally disengaged groups.
We The Voters partnerships
We The Voters worked with over 60 digital partners, including exhibition partners, VOD, media properties, online platforms, and news outlets.
We The Voters features talent including Anabelle Acosta, Tom Arnold, Mario Cantone, Rosario Dawson, Grace Helbig, Richard Kind, Joshua Malina, Charlotte McKinney, Ana Ortiz, Harold Perrineau, and Analeigh Tipton.
We The Voters topics
The 20 videos produced in the series were grouped into the following areas of focus:
"About We The Voters." We The Voters, Vulcan Productions, 2016.
With We The Voters, the impetus was instead the imminent 2016 US presidential election. We were discovering, as with the economy, a lot of Americans were trying to make sense of the political system and voting process. Again, we commissioned 20 films — about topics like student debt, lobbying, and immigration — to break down the issues and inform diverse audiences. We wanted to reach younger voters and those harder-to-reach, traditionally disengaged groups, so we chose our platforms based on these targeted demographics. We also partnered with PBS Learning and 10 national educational organizations where our content was used by 2 million teachers, with 13,000 downloads of our accompanying curriculum. The films alone had 20 million views — with the social media campaign generating a staggering 13 million views immediately after the election, as people were trying to work out what the heck had just happened.
Digital short form corresponds neatly to the technological and generational shifts we're seeing in how we consume media.
We The Economy awards
We The Economy won more than 12 major film and digital awards:
Webby Winner in the 2015 "Online Film & Video / News & Politics Series"
"Best Mobile App" at the 2015 Shorty Awards
2015 Gold World Medal Winner for "Online Educational Program" and Silver World Medal Winner for "Short Films" at the 2015 New York Festival's Best TV & Film Awards
"We The Economy." Vulcan Productions.
Quick to produce and quick to consume, digital short form corresponds neatly to the technological and generational shifts we're seeing in how we consume media. A lesson we learned between We The Economy and We The Voters was that viewers wanted even shorter content, so while We The Economy films were 5–8 minutes, We The Voters films were 3–5 minutes. Digital short form doesn't need to fit into a traditional slot or platform, and that's one of its greatest strengths — it's always the right size for what you want to convey, and using it with social media means you can micro-target audiences. Not only will this allow you to reach people who wouldn't normally see a documentary, but audiences feel like it's a consumable and entertaining nugget versus a more mission-driven documentary. Additionally, the agility you get with online streaming means you can test different theories of change in a responsive, immediate way. The only downside of the medium is it's hard to track actual behavior change or overall impact beyond views, likes and shares. That's still a challenge to be tackled and one the greater SIE space faces as well.
We The Economy topics
The 20 videos produced in the series covered the following topics:
"We The Economy: About." We The Economy.
The responsiveness and ease of production you get with digital short form allows you to really extend a project's life.
We The Economy directors
We The Economy featured work from well-known directors such as Adam McKay, Catherine Hardwicke, John M. Chu, Mary Harron, Albert Hughes, Steve James, and Barbara Kopple.
YouTube in numbers
"YouTube in numbers." YouTube, 2018.
Racing Extinction awards
"Racing Extinction (2015): Awards." IMDb, 2019.
A more sustained example of what Vulcan Productions does is the short-form content that was commissioned in concert with the release of the documentary Racing Extinction, which Discovery Channel premiered worldwide within a 24-hour window. The feature premiered in December 2015, but Vulcan's social impact work continued long after with a campaign featuring additional short films to help grow the community of advocates. We also created a website that is regularly refreshed with content, and we launched a public challenge and campaigned for policy change. We partnered with more than 75 NGOs to drive viewership, petitions, and support for bans. We even partnered with the Vatican and produced an event that projected images of species facing extinction onto St. Peter's Basilica as well as other iconic buildings including the UN headquarters and the Empire State Building.
Racing Extinction and #StartWith1Thing
The #StartWith1Thing campaign launched in support of Discovery Channel's debut of Racing Extinction.
#StartWith1Thing pledged simple lifestyle changes that can add up to big benefits for endangered species, the environment and humanity itself.
Discovery leveraged its additional platforms, including custom branded content, digital, social media, virtual reality and Discovery Education, along with its partners to ignite curiosity and global actions people can take in the four areas illustrated here.
All this generated 24 million views of the shortform videos associated with the project. It has driven 1.3 million unique visitors to the website, and reached people in 196 countries. The responsiveness and ease of production you get with digital short form allows you to really extend a project's life. We haven't even finished with the Racing Extinction campaign yet and our community of activists is at 400,000 and growing. Those kinds of numbers are a real thrill.
We've learned a lot by working in digital short form over the past five years. Habits are changing and so are mindsets; 30 minutes used to be considered short form, now it's more like seven or less. Beyond this, it's increasingly apparent that millennials are loyal to program styles and brands they believe in rather than specific broadcasters, and that demographic is one of the biggest consumers of media. So, if I were to give one piece of advice, it would be this: to find your targeted audience and drive impact you need to diversify your content, your platforms, and produce content that is both entertaining and delivers a strong takeaway.